Banking and Capital Markets
View this page in: Türkçe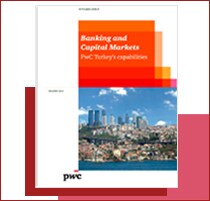 Ever-changing regulatory and other critical developments affecting domestic and international banking institutions can be challenging – and are often downright overwhelming. As a market leader, PwC banking professionals continually anticipate, understand, and resolve emerging issues at the forefront of the banking industry, helping our clients negotiate the maze of regulatory requirements in Turkey.
PwC banking professionals have focused skills in key areas to effectively serve you with your most critical challenges, including:
Assurance
IFRS conversion
IT Audit
Due diligence
Anti-money laundering
Mergers & Acquisitions
Performance Improvement
Sarbanes-Oxley
Financial Risk management and Basel II
Securitizations
Regulatory
And because our clients demand a deep knowledge of their industry and business processes, the Banking Industry practice is organized within our Financial Services practice to fully leverage our global team. As the sector continues to converge and consolidate, our integrated knowledge will enable us to design and implement cost-effective, multidisciplinary solutions to meet the challenges and opportunities facing our clients.
Competition, consolidation and increased regulatory and operational risk are major drivers for Capital Markets-Securities Firms and Investment Banks. These drivers are rapidly transforming their sectors along with event- driven opportunities, the rapid pace of change and enhanced technology.
How can PwC Turkey help you?
PwC has a global network of specialists who can help turn challenges into opportunities in key areas of your business including governance, risk and compliance, process improvement, financial reporting and business development strategies.
As financial instruments and the related technology used to trade them have become more sophisticated, we have responded to our clients' needs by building a group that provides a full range of professional services, including audit, accounting, tax, and regulatory advice. This group includes not only auditors,advisors and tax specialists with deep industry experience, but dedicated teams that provide internal control assessments, financial systems design and implementation services and solutions across a broad range of industry-related matters, including regulatory compliance and risk management.